JT8900D is a most advanced 5G R16 NSA/SA Sub-6G outdoor data unit specially designed to meet the most challenging demands of today's high-speed wireless backhaul and fixed wireless access deployments by the 5G/4G/3G service operators. The unit can support multiple TDD & FDD band operations. Multiple operator network support can also be provisioned on the unit to allow the deployment across entire country with different operators.
JT8900D is designed to meet the stringent operation environment for outdoor CPE devices. The device MTBF time is expected to be above 80,000 hours. Depending on the network configuration and DL/UL split ratio configuration, the unit can provide up to 4.3Gbps max throughput over the air. The typical coverage should be more than 15km with reasonably good throughput performance.
JT8900D provides 2.5G Gigabit PoE connection to connect user terminal device such as indoor router or WiFi AP products. The unit PoE interface can also work with standard PoE switches or router products. The product comes with PoE power adapter and mounting bracket accessories for quick self-installation.
JT8900D is a user-friendly 5G NSA/SA 5G NR Sub-6G CPE that is easy to install and maintain. The unit is fully integrated and comes with all the necessary device drivers pre-loaded. Subscribers just connect the device to their computer or home switch/router and the device is ready to offer an experience of surfing over Internet. The IP addresses can be dynamically obtained via DHCP.
JT8900D offers rich management features which facilitate the task of service provider. It supports local management access, Telnet, WEB, and centralized remote OTA configuration, upgrades management and device monitoring via standard TR-069 ACS systems. JT8900D can remote access management via 2.4GHz WiFi connection
Chipset

Qualcomm SDX62

Dimensions

330mm x 200mm x 85mm

Weight :

< 2.5Kg

Power Adapter

Input : 100-240V 50/60Hz 0.75A

Output : DC 48V/0.5A (2.5 Gigabit PoE)

Power

< 12W

Data Interface

1 RJ45 2.5Gbps ETH Port(PoE)

LED Indicator

PWR, SYS, NET, SIM, ETH, RF (5 Signal intensity LEDs)

SIM Card

1.8V/3.0V USIM 2FF

Environment




Operating T, -40℃ to 55℃

Storage T, -45º C to 85º C

Humidity, 95% max Non-condensing

Industry Standards

ITU : 3GPP Release 16

IEEE : IEEE 802.3 10Base Ethernet

IEEE 802.3u Fast Ethernet

IEEE 802.3ab Gigabit Ethernet

Ingress Protection Rating

IP67

Regulary

FCC / CE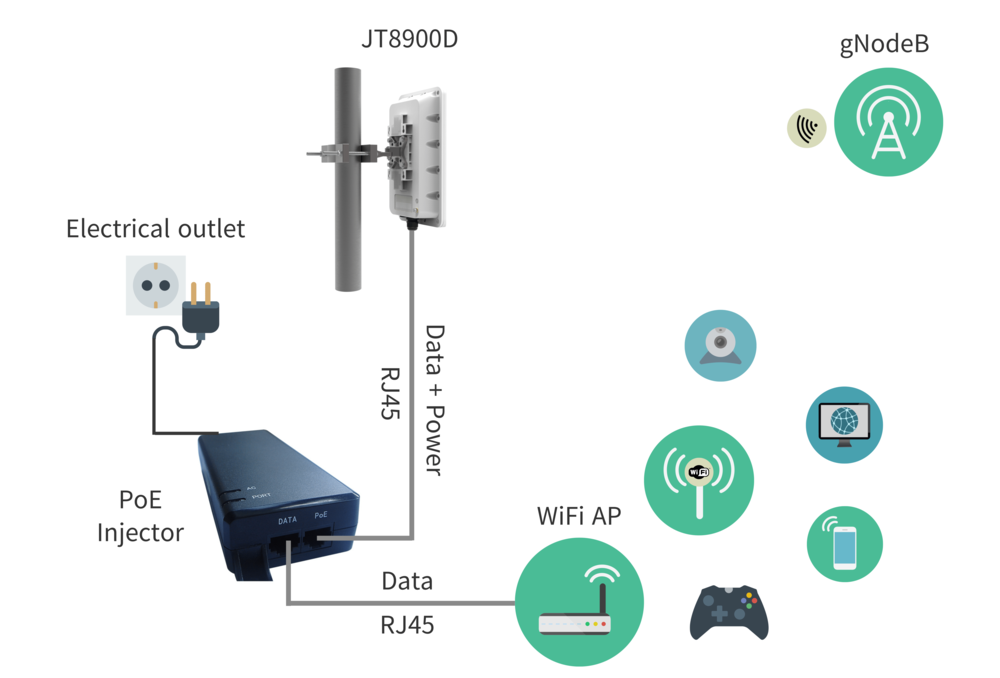 Radio Access

3GPP Release 16

5G NSA/SA 5G NR Sub-6GHz

LTE-TDD/LTE-FDD/WCDMA

GPS

Built-in GPS

DL CA support

Up to 5CC

Modulations

QPSK/QAM16/QAM64/QAM256

Output Power

23dBm (2Tx)

Receive Sensitivity

Compliance with 3GPP standard

Frequency Band

5G-NSA: n2/3/4/5/7/8/12/14/20/25/26/28/38/40/41/48/66/71/n77/78/79

5G-SA: n1/2/3/4/5/7/8/12/13/14/20/25/26/29/30/38/40/41/48/66/71/n77/78/79

LTE-FDD: B1/2/3/4/5/7/8/12/13/14/17/20/25/26/28/29/30/66/71

LTE-TDD: B38/39/40/41/42/43/46/48

WCDMA: B1/2/4/5/8

Antenna Gain

617 ~ 960MHz Band 6.5dBi

1700 ~ 2700MHz Band 10.5dBi

3300 ~ 5000MHz Band 15dBi