JT3600V is a most advanced 5G NSA/SA 5G NR Sub-6G indoor WiFi & VoLTE/VoNR CPE product specially designed to enable quick and easy 5G/4G/3G fixed data service deployment for residential and SOHO customers. It provides high speed LAN, WiFi and VoNR integrated services to end users who need both bandwidth and multi-media data service in residential homes or enterprises.
JT3600V is an advanced multiport indoor WiFi and VoLTE/VoIP CPE based on the standard implementation of 3GPP Release 16 specifications. With built-in high gain LTE antenna, it enables a longer reception range from the gNB. This yields more efficient use of the network with a larger cell reach, guaranteed carrier class service, and customer service probability.
The device has 2 RJ45 2.5Gigabit, 1 RJ11 analog phone port, high performance 4x4 MIMO and CA capabilities, 802.11b/g/n/ax multiband WiFi, advanced routing and firewall software for security. It provides an effective all-in-one solution to SOHO or residential customers. It can deliver up to 1Gbps max data throughput which can be very competitive to wired broadband access service.
Product Highlights:

Cost effective & compact design with built-in high gain 4x4 wide band antenna
Compliant to 3GPP Release 16 specifications
Advanced 4x4 MIMO with Category 20 throughput
2 RJ45 2.5Gbps WAN port, VoLTE/VoIP Line and 802.11b/g/n/ax multiband band MIMO WiFi
Router, bridge and by-pass networking, IPv4 &v6 and Multiple PDN support
VPN & full L2TPv2/
L2TPv3
GRE Tunneling client's support
Wireless fallback support for networking redundancy
FTP, HTTP, HTTPS and TR-069 management support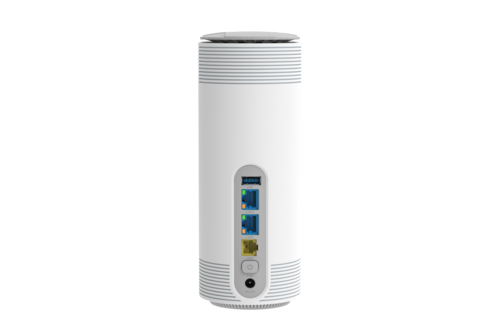 Freqency band:
n1/n2/n3/n5/n7/n8/n12/n20/n25/n28/n38/n40/n41/n48*/n66/n71/n77/n78/n79
B1/B2/B3/B4/B5/B7/B8/B12(B17)/B13/B14/B18/B19/B20/B25/B26/B28/B29/B30/B32/B66/B71
LTE-TDD: B34/B38/B39/B40/B41/B42/B43/B48 LAA: B46(2x2)
WCDMA: B1/B2/B3/B4/B5/B6/B8/B19